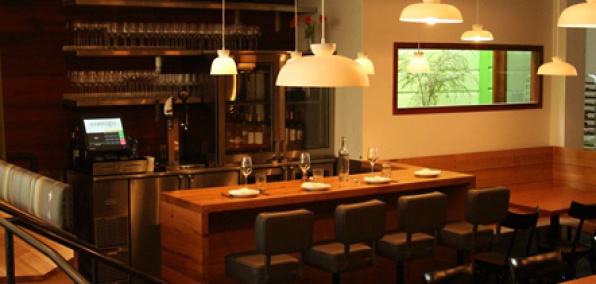 Usually a little getaway is what it takes to recharge the batteries.

But sometimes, something as simple as dinner is all you need.

That's when you'll want to try Contigo, a tapas bar straight from deep in the heart of Barcelona, opening tomorrow in Noe Valley.

This little eatery, complete with its garden patio out back, is one part Cali, one part classic tapas bar. Stepping inside, you'll be whisked into a bright, bustling spot that was formerly a computer shop (now, thankfully USB-free).

Linger with your date over the wooden bar rail across from the kitchen and start with some cava. The kitchen is lorded over by a Chez Panisse vet, so you'll do good to start with classics like a Spanish omelet and fried potatoes before splurging on a few slices of acorn-fed, free-range Jamon Iberico de Bellota. Or, opt for the Txistorra Burger topped with fried onions and manchego.

The best seats are the plush, high-backed stools at the kitchen or bar counter, unless you want to nestle up at a table made of wood salvaged from the old Levi Strauss factory (denim not required).

Add a 40-deep Iberian wine list, local ales and even an Estrella Damm lager imported from Barcelona, and consider yourself transported.

And maybe even recharged.