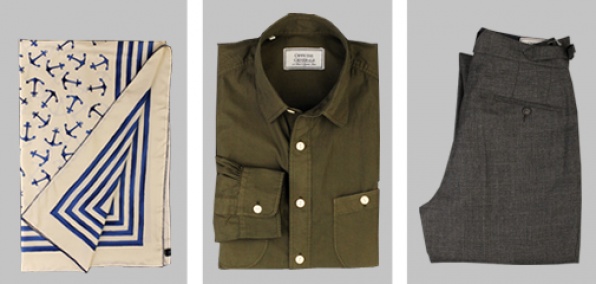 So... this is awkward.

Here you are, going about your day, thinking nobody notices you're not wearing any English fresco wool pants.

Well, you should know: people notice.

Or at least one French guy did.

And he's come to your aid with Officine Generale, a small yet mighty collection of impeccable chambray button-downs, herringbone jackets and at least one foulard (because... foulards), available online now from Unionmade.

So that French guy. Pierre Maheo. He earned his stripes at French and Italian tailoring houses. He learned valuable lessons like: Italy makes great cotton. Japanese chambray is the best chambray. And now he's using that knowledge for the betterment of your body.

Your first move: that striped indigo-and-white jacket, ripe for Kentucky Derby–ing. Second move: a sky-blue poplin button-down. Procure one. Then, introduce your new sky-blue poplin button-down to the world. Maybe at a baseball game. Doesn't matter. It's just some really well-made gear that looks as rakish today as it will years from now. So head somewhere clothes are still relevant and go nuts.

Actually—wait. Before you go and do all that, stay at your computer. Because right now, that's the only place you'll find this stuff outside of a few shops around the world.

Well, they're inside of shops, but you get it.