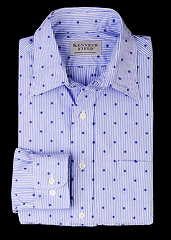 A handful of people just journeyed to faraway lands for you.
They did.
And the weird thing is, they don't even know you.
Yeah. They just up and flew to Japan, scooped up a bunch of clothes that are going to make you look like the mayor of Easter brunch and brought them back to the Mission for your perusal.
And presumably to put on your body...
Turn Japanese for
Kenneth Field
, a rakish amassment of designed-in-Tokyo linen button-downs, double-breasted sport coats and other mimosa-friendly garmentry, exclusively available now at Unionmade as part of their new Made in Japan capsule.
The Unionmade guys just got back from Japan. We've covered that. They came back with a bunch of shirts and pants and stuff. Covered that, too. What we haven't covered: you. Yet. So let's get on that, shall we...
Look around a bit. Spend some time trying to figure out what you're going to do in those beige-and-yellow flower-print pants. They're ridiculous in all the right ways. And hey, look, a dark-beige sport coat. Grab a blue-and-white button-down to go under that and find some eggs benedict somewhere.
Oh, and you'll need a tie. Preferably a four-way reversible plaid tie that you can literally fold and unfold to produce four completely different looks. They've got one of those, too.
Spies swear by the thing.