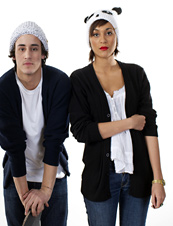 On this rare, beautiful snowy beast of a day, it's not uncommon to long for the warmth of a good whiskey.  
Or at least the warmth of a hat lovingly knit by your nana.  
Whiskey is easy. As for the granny-knit hat, thankfully we know a few octogenarians just dying to help a nice bubala like yourself—welcome to
Golden Hook
, a collective of French grannies making custom knit hats to order online.  
Think of Golden Hook as the downright essential combination of a French senior-citizen Savile Row and granny Facebook. Which means it couldn't be simpler: grab a steaming mug of schnapps-enhanced cocoa (okay, this is optional, but not really), click "create a hat," choose one of six hat types, fully customize the colors and stripes and then pick the granny craftswoman you think will most lovingly execute your new cap.  
Currently there are six granny profiles on the site, from Simone (who likes "new technologies," including "microwaves") and Sarah (married since kindergarten, a great lover of
Wheel of Fortune
) to foxy Elisabeth, the spring chicken of the group, who at age 48, already has a five-year-old grandson.  
Just remember, you're here for the hats…