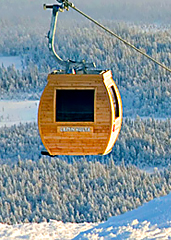 Nudity. Steam. One-way windows.
These are not normally things you associate with gondolas.
And if they are, you're doing something very, very right.
Something like floating around in the
Sauna Gondola
, the world's first and only ski gondola with an honest-to-God sauna in it, gloriously spinning around Finland's Ylläs resort now.
You outdid yourself this time, Finland. You really damn did. The thinking goes: you're in a gondola. You've got time to kill. So just... sauna. It's Nordic efficiency at its finest.
It'll start out, as these things do, with you getting into the blond-wood-lined gondola with three friends. Or three... friends. Then, just go ahead and follow Finnish custom. By which we mean casually ditching your clothes, casually sweating profusely and gazing out of your one-way window as the mountain sweeps along beneath you (unless you've got better things to stare at, that is).
From that point, it's two whole hours of looping around the mountain. And if you've got friends waiting outside, feel free to swap spots with them and head to the spa at the top of the lift. There's a fireplace, a jacuzzi and a frozen dipping pool up there.
Of course there's a frozen dipping pool up there.