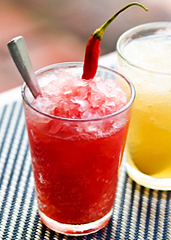 Street food.
You know the stuff.
Comes out of a truck. Goes in your mouth. Makes you all happy.
Well, turns out, street cocktails work in a very similar way.
And turns out, those exist now.
Welcome
Derby Cocktail Co.
, a full-on mobile drinkery from the Stag Dining Group guys slinging barrel-aged Manhattans, pisco cocktails and the occasional gin-laced snow cone, popping up Fridays at Off the Grid at Fort Mason.
This season at Off the Grid: food trucks. Yep, still food trucks. But they're also doing this new thing. A thing that involves reservation-only prix fixe dinners served inside of a heated lounge. Also inside that lounge: you guessed it... pop-up bar.
So it seems your options here are twofold: 1) Make a reservation for one of the new dinners and show up for a bunch of cocktail-paired courses. 2) Don't make a reservation and show up anyway.
You see, the Derby Cocktail gents will be commandeering the Brewtruc (it'll be parked right next to the tent) and slinging all manner of martinis, oak-barrel Manhattans and
Rose Garland Coolers
(rose vermouth, pisco, rose water, bergamot...) from the pickup window.
And there you have it. Oh, right. Adult snow cones. They'll have those, too. You'll have your choice between a bramble version (that's gin), a hurricane version (that's rum) and a Brown Derby version (that's bourbon).
That's also pretty fantastic.