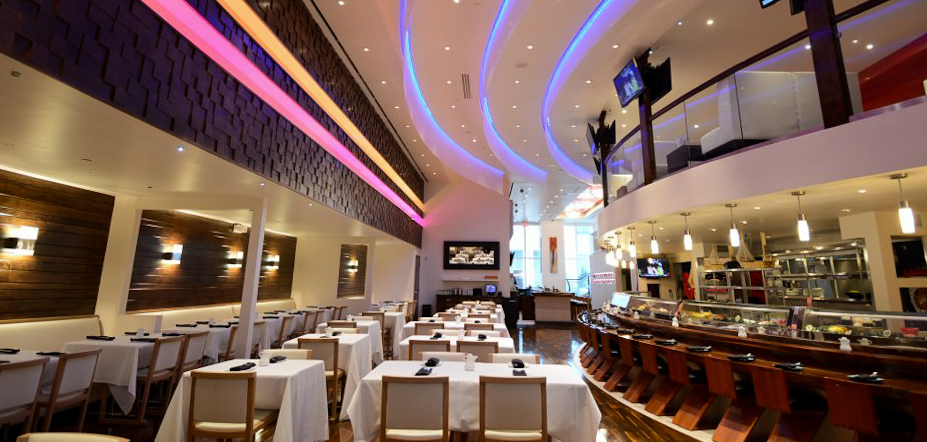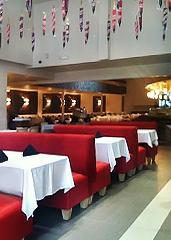 Some things in life are just self-explanatory.
...
Meet
Amura Buckhead Sushi & Steak
, a dimly lit monstrosity of a sushi spot, soft-opening very quietly tomorrow afternoon in Buckhead.
Now, you've probably been here before. And that's probably because it's in the old MF Sushi spot. Thankfully, though, they didn't really mess with the whole bring-someone-sexy-and-eat-spicy-tuna-rolls aspect of it. Which is convenient.
Only now it's a lot more... red. Everywhere there's red. On the abstract painting hanging in the foyer. On the weird, wavy light fixture above the bar. Which, by the way, is a great place to stop if you're looking for some, say, sake right around, say, lunchtime.
But if you're meeting that aforementioned someone sexy for dinner, don't stop. Keep going past the sushi bar on your left. Notice what's coming out of there—wooden sushi boats. Wagyu steaks. Those things are about to come in very handy.
For now, forge ahead until you hit the last room. They call that one the Umbrella Room. Slide into a red booth (there's that red again) and look up. Those are dozens of Asian-style umbrellas hanging from the ceiling.
It's like a bunch of mai tais exploded.