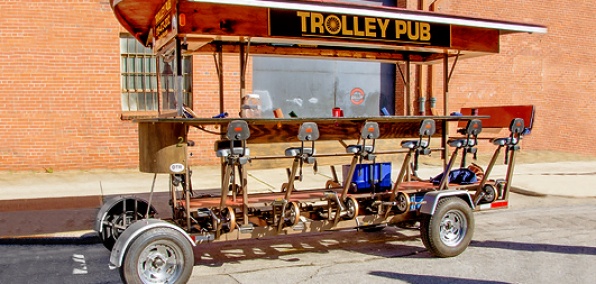 Around here, everyone needs a legal loophole to exploit every now and again.

Like this one: it's illegal to consume alcohol on the streets of Arlington. Unless you happen to be riding a pedal-powered bar around town.

Hey, we don't make the rules, we just tell you about the Arlington Trolley Pub, an open-air bar on wheels that's taking bookings now for an April launch around the roads of Clarendon.

If Fred Flintstone were to take his imbibing through the streets of Bedrock, it might look something like this: 14 seats arrayed around a bar, each with a set of pedals. And another seat for the (non-imbibing) conductor, who steers the thing and occasionally engages the electric assist, should your pedal power be insufficient to climb a hill (or beat a pedicab in a drag race).

You'll supply the beer or wine, as well as some appropriate music ("Road to Nowhere"), then set off on your adventure by bar. Maybe a pub crawl, sans crawling (or even walking). Maybe a progressive dinner party. Or maybe you'll just bike around and wave at your fellow citizens who aren't allowed to drink in their other, less entertaining modes of transportation.

Just don't pick up hitchhikers.