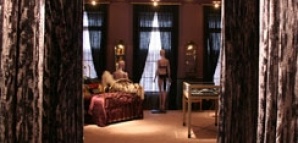 It seems every relationship hits that point, maybe by...date three, when things can become a little...monotonous.

Andrew Pollard and Jennifer Zuccarini want to fix that.

Hence Kiki de Montparnasse, which opened this week, soon to be known as the sexiest store in town. Somewhere between lingerie store, high-end sex shop and luxe boudoir lounge, Kiki is the upscale, gentlemanly way to introduce your lady to your not-so-gentlemanly proclivities.

She'll feel right at ease as soon as she enters the luxurious store and fingers some of the silk satin corset lingerie by the front. Usher her by the glass cases where she can find leather masks and lambskin wrist restraints with 24K gold plated hardware (and ever-essential matching paddle). Candles and chocolates are (of course) displayed next to elegant miniature house-label vibrators.

In the back, peruse the case of erotic jewelry (forget diamonds, nothing says "girl's best friend" like a pearl "stimulator" ring) next to a plush bed and a leather-and-brass sex chair with stirrups (remember, looking is for the store, testing is for home). Save the play for the spacious velvet-curtained dressing rooms, where she can try on her lingerie in three different lightings via a control panel: Before, During and After.

Kiki's second floor Salon will offer classes and events (we will be in attendance for all), making Kiki a one-stop shop for education, enrichment and the best selfish gifts ever.

We suspect all of this will give totally new meaning to "going south of Houston."