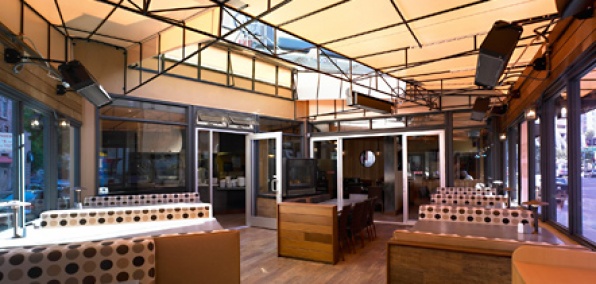 When it comes to burger joints, there's always room for one more.

Especially if the burger joint in question is a spin-off of the crew from the legendary Myth.

So without further ado, welcome to Pickles, your new go-to lunch spot—and soon late-night weekend spot (serving till a much-appreciated 3am)—grilling up burgers, hot dogs and steak sandwiches, opening tomorrow in the shadows of the Transamerica building.

Walking into Pickles, you may feel a hint of a Tahoe ski-lodge vibe—the walls are covered with wood slats, cozy booths line the walls, and a roaring fire seals the deal. And since they gutted the old Clown Alley, you'll be impressed to find an enclosed, heat-lamped outdoor patio with a retractable roof revealing humbling views of the towering Transamerica.

Start with lunch for now, but come April 1, this is where you'll want to go after-hours to ward off any looming hangovers with a Bacon Burger (packed with eight ounces of Prather Ranch beef) or the chili-topped Taxi Dog—washed down with a Fat Tire or two. And maybe throw in some beer-battered Vidalia Onion Rings or Garlic Big Fries.

Unless, of course, your night is just beginning.