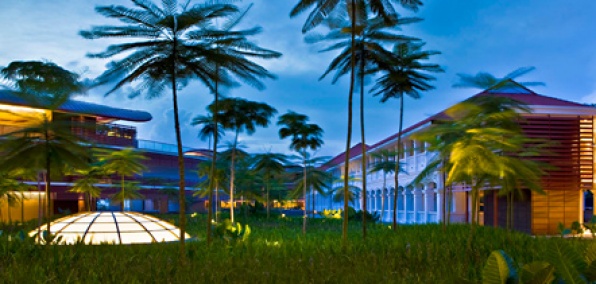 Choosing a travel destination (like choosing a date) can leave you racked with indecision. High-energy urban, or laid-back and natural? Shamelessly extravagant, or realistic on the wallet? Exotic, or easy-access? (Yes, we're still talking vacations.)

Our recommendation: all of the above.

Just a quarter-mile south of the hyper-urban Singapore center lies resort destination Sentosa Island, home to white sandy beaches, tightly manicured, championship-level golf courses… and, starting next month, Capella Singapore, the nation's first six-star hotel. The newest venture of the renowned Capella Group, this veritable palace nestled in a tropical rainforest along the South China Sea offers you 19th-century bungalows, private garden villas and enough colonial charm to make Kipling go weak in the knees.

Capella is all about the age-old pastimes: you'll tee off on the adjacent Serapong course (home to Asia's biggest golf tourney, the Singapore Open), rest and refuel at the traditional Peranakan tea house and tour the island in one of Capella's onsite Rolls Royces. If the cocktails and bona-fide Cubans at the beachfront bar don't cut it, the twinkling lights (and world-class restaurants) of Singapore proper are just a few minutes away. And with every third night comped and an exchange-friendly Singapore dollar, opening rates are about half what you'd guess.

Score one for indecision.