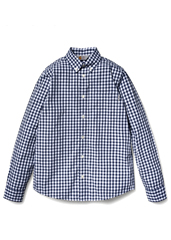 The Prodigal Son.
Great story.
It's about a guy who abandons his family for faraway lands and exotic temptations, and returns home. Because he misses it. (And possibly wants money.)
Today's story: very similar.
Except instead of human beings, we're talking about clothes.
Welcome home
Carhartt Work in Progress
, the younger, trimmer and all-around-good-looking European son of the iconic American workwear brand, online now in the USA for the first time ever.
Yes, Carhartt. The same Carhartt behind those invincible jackets and overalls worn by every farmhand since the invention of farms (or since 1889, whichever came first).
For years, they've bedecked Europeans with their camo-print button-downs, elbow-patched sweaters and other Milan-worthy handsomeness. But now, instead of renouncing your citizenship and moving to Düsseldorf, you'll just order them online from the comfort of your homeland.
You'll want this stuff during this pesky winter-spring transition time, which we're calling "sprinter." ("Winger" was taken.) There's plenty of wind-breaking and torso-flattering jackets, and some lightweight denim things for covering your legs in public (we're calling them "jeans"). It's basically an arsenal against both rogue flurries and sweating during brunch.
Oh, and about the "Specials" section. It's a trove of unexpectedly wonderful things from candles and military watches to virtually bulletproof cafeteria trays.
We hear lunch gets crazy in Europe.