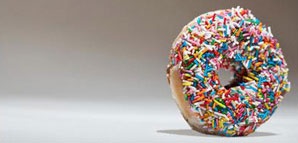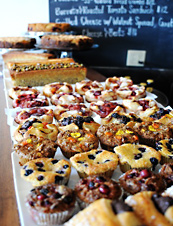 You kept the holiday weekend going late. Really late. And now you're going to need a really good reason to get out of bed.
Maybe even a baker's dozen reasons. Huckleberry opens tomorrow morning with just one batch of old-fashioned doughnuts, ready at 8am—and when they're gone, you're out of luck until the next day.
From the owners of the dinner-only Rustic Canyon just up the street, Huckleberry takes the modern-rustic thing into daylight hours, starting with carb-loading for the most important meal of the day—pastries, pancakes and those doughnuts. But they've also got
Green Eggs and Ham
…and by ham they mean
La Quercia Prosciutto
, an artisan salumi made of 100 percent Berkshire pork that would have rocked Dr. Seuss' world.
If you come back for lunch, you can have your
Turkey Meatball Sandwich on Ciabatta
at one of just a few tables within. They'll be closed come dinnertime, but you can grab cheese, sides and a whole duck or a rotisserie
chicken
from the case to take home for later.
After all, dinner
is
the most important meal of the night.