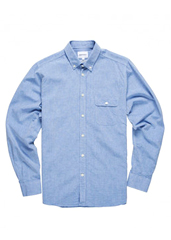 You hold a special place in your heart for Philadelphia.
And in your stomach for the cheesesteaks.
And in your head for
The
Fresh Prince of Bel-Air
's theme song.
And on your torso for... this stuff:
Take a long, intrigued look at
Ps & Qs
, a new South Philly–based purveyor of what the scientific community commonly refers to as "clothes," online now.
These guys just opened up on South Street in December. It's great. Hardwood everything. Oriental rugs. Obscure hip-hop setting the mood. Only one problem: a few meddling laws of physics kept it from being everywhere at once. But thanks to a shiny new website, that's all solved now.
It's the first place you'll turn after realizing how empty your life is without some aggressively floral graphic tees or limited-edition New Balances. After filling that void, you'll discover all sorts of things to make you (even) more handsome. Like some royal-blue Penfield jackets. And those fuchsia swimming trunks that just look so... fuchsia.
Now, you're probably perusing the site thinking, "Those are some hellaciously fine chinos. My thighs would look great in those." And you're right. They would. But look beyond such textile-based pleasures. They've got loads of grooming supplies, coffee-table books and pop-up camping tents. Can't wear any of that, but still, comes in handy.
Especially if you're opening a really remote barbershop.