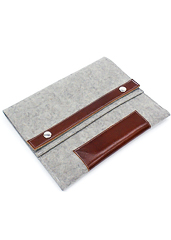 Sometimes, when the answer isn't clear, you just need to consult a Magic 8 Ball.
Like when you're wondering whether or not to buy some very custom, possibly life-altering new cases for everything you own with an on/off button.
Let's shake...
Signs point to yes
.
It is decidedly so.
You may rely on it.
Looks like you're stocking up at
Willow & Company
, an Atlanta-based webstore full of customizable wool-and-leather cases for your laptops, phones and tablets, online now.
Meet Christa. She's your new iThings tailor (because apparently those exist now). And she's both willing and able to make any case you want to your exact specifications. Laptop bags. Phone sleeves. Beeper holders. Wait...
Anyway, spend a few minutes getting familiar with the site. Look for a graphite-black colonial-style case in there. The kind of thing you'd stick a MacBook Pro in (and maybe a Pop-Tart) before going about your business somewhere. You should get one. Or that steel-blue, German-wool number with a horizontal leather band across the front. Get that one, too.
And when you go to check out, just specify what version of the device you're getting it for. A Kindle Touch. iPad. Whatever. She'll worry about applying the appropriate dimensions and whatnot.
To your... iPad's inseam.