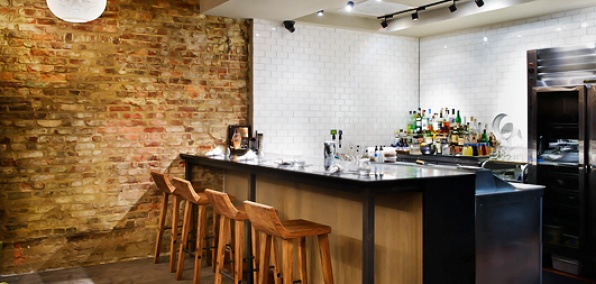 There are plenty of reasons to organize a double date.
"To take over an entire bar" was not one of them.
Until now.
Say hello to
The SpiritsBar at Rogue 24
, a fully furnished, incredibly tiny cocktail bar at the back of the experimental restaurant's dining room, taking reservations now.
So yeah, you can fit more people in a Prius than you can at this bar—just a slab of granite and four medieval-looking wooden stools.
And sure, you can go à la carte here and grab a drink off the list, like a bourbon with smoked cola and lime. But the better play is to invest the 90 or so minutes it takes to run through the three-course tasting menu, with each drink paired with a small plate.
That's when your bartender (a well-tattooed former chef named Bryan) will unveil
the latest creations from his experiments
—maybe a pickleback with housemade pickle juice, maybe his new
Breakfast Daiquiri
with citrus, coffee-infused rum and burnt-cinnamon milk.
Ought to go well with the
Pork Donuts with Apple Butter
that the kitchen might send over—that is, when they're not dishing you ox tongue with beets or Nutella churros.
No word yet on ox-tongue churros.