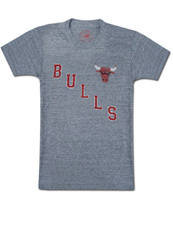 The NBA All-Star weekend tips off with tonight's Rookie Challenge. Yet whenever you watch, you can't help but feel a pang of nostalgia for the players of yesterday.
Those guys really knew how to dress.
That's why we're bringing Sportiqe Apparel Co
.
's 2009 line of vintage-inspired sportswear to your attention. It safely blends your classic fashion sense with your Chicago sports-nut heart.
Launched from a West Loop loft in 2006, founder Jason Franklin knows a thing or two about the good old days himself—as a teenager he lived out your fantasy (well, one of them anyway) by serving as the Bulls' ball boy during its second championship season. We're sure he's got stories, but until he decides to release a tell-all, you'll have to settle for the shirts.
The new Bulls line features distressed tees, hoodies and sweatshirts with logos modeled after late-1960s practice gear, saving you the expense of tracking down the contents of Tom Boerwinkle's locker.
But Sportiqe's stuff isn't limited to hoops. In fact, you'll find Blackhawks superfan Jeremy Piven posing in Sportiqe's old-school hockey threads on the cover of the Hawks' current merchandise catalog.
Which kind of leaves us wondering: Who's this guy's agent?