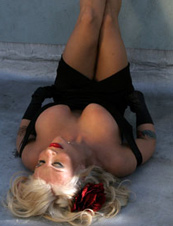 As you may be aware, tomorrow is Valentine's Day, and we thought you might need some last-minute inspiration. So we immediately thought of
Kristin Davis
. As the former leader of "the most successful prostitution ring in America," the Manhattan Madam ran a stable of 60 girls. But in 2008 Davis was collared and sent to Rikers. Just out of the big house, and with a tell-all memoir hot off the presses, Davis sat down with us in the plush lobby of the Algonquin hotel to talk about women, madaming and her plans for Valentine's Day. (Note: they might include you.)
UD: How was the slammer?

KD: I was in Rikers for three and a half months in solitary confinement. That's 23 hours a day in your cell, plus an hour outside a day. It's shocking to think that someplace like Rikers exists in New York City. There are maggots. There are roaches. There are rats that crawl into your cell. I thought to myself, "What is this, Thailand?" It was a bunch of murderers, plus little old me.
UD:
What was the first thing you did when you got out?

KD: I went to Del Frisco's and had a nice steak. Then I went to Friend House in the East Village for the mini Peking duck roll.
UD: What are some of your other favorite spots?

KD: I had a whole list of places I wanted to go: Bond Street,
Philippe Chow
…
UD: Before you got put away, where did you find clients?

KD: I'd go to all the hot spots. Upstairs at Cipriani was a prime spot for picking up girls and clients. I didn't understand back then that it was exclusive. I'd show up with two beautiful girls and they'd let me in. But then I'd see the whole cast of
Law & Order
and say, "Whoa!" But they give you a free membership and then I started recruiting from there.
UD: How about your girls?

KD: Marquee was a good place to find girls, not so much clients. And I spent a lot of time at 60 Thompson. I used to hit up all the clubs: Duvet, Marquee,
Mansion
, Butter.
UD: Do you have any Valentine's Day plans?

KD: Last year I had planned a wonderful Valentine's Day. I rented a suite at the W Union Square for my boyfriend. It was raining but I got in a cab and went to his favorite restaurant,
Philippe Chow
uptown, the only place in the world for Peking chicken. I had a little cake made at a bakery with our initials.
UD: Sounds like you're pretty into it.

KD: I like the romance of Valentine's Day. I don't want the traditional gift. I want something sentimental. I want a message in a bottle. I want custom-made M&M's with my initials. I want my Tiffany necklace engraved with my name on it. OK, you can't afford that? One flower and a really well-written letter would suffice. I don't need to be taken out so much. I want someone to pamper me, give me a foot rub and do all the things that women really like.
UD: Any plans this year?

KD: This year, I have no Valentine. Maybe an UrbanDaddy reader could spend Valentine's Day with me!