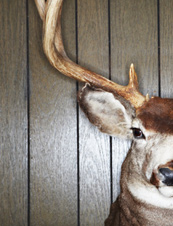 You've hunted down many things in your life: rare vintages of wine, old Miles Davis records and women to enjoy both with. But one thing you've probably never hunted is your own food.
So when we heard about Bull Moose Hunting Society, a new SF-based hunting and meat-share group forming in the Western Addition, we were intrigued to say the least.
And when we stopped by, we found what will soon be your new go-to for the freshest possible game meats in town: wild boar, wild turkey, pheasant, deer and duck, all for the taking…and all put to rest by your hand.  
Since this is a city-based group (don't expect any gruff Elmer Fudd-types), you won't be the only one new to hunting. They'll walk you through the permit process, work on your marksmanship (you'll use a rifle, unless you happen to be handy with a bow and arrow) and offer safety tips to make sure there aren't any Dick Cheney-esque mishaps.
And even if you don't hunt, or you fire a few blanks out in the field, they won't let you go home empty-handed. You'll learn how to clean and gut the carcass in the field, then butcher and vacuum-seal the meat in the kitchen.
Which in the end should go perfect with Miles and that rare vintage…