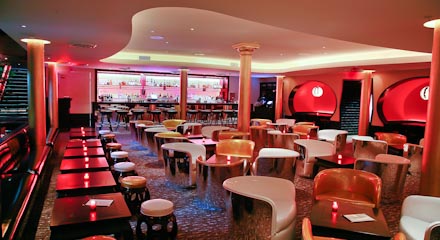 It's official: Chinese is the new Japanese.
Hot on the recent trail of dynastic Chinese mega-scenes (
Philippe
,
Buddakan
, Mr. Chow), a Chinese restaurant with a different spin opens its doors this weekend as the latest place to get your chow fun.
What's being referred to as the "Chinese Balthazar," Chinatown Brasserie (from the owners of Lure Fishbar and Lever House) is a big, amped-up Chinese restaurant with a chill but bawdy brasserie vibe.
Giant silk lanterns hang everywhere, Chinese daybeds serve as seating, and a live koi pond sits below the steps leading downstairs (we foresee the possibility of all kinds of exciting accidents). The main dining room has a pagoda-style bar and group-friendly circular banquettes for watching the bustle. And in the effort to keep up with the mega-restaurant Joneses, there's also a chic private room seating 20, and a downstairs lounge with tucked-away alcoves (for when you just need to get away from the 400-seat crowd).
The brasserie vibe continues with outdoor seating, a warm buzz and a decidedly unpretentious menu, with favorite classics like
General Tso's Chicken
and
Chicken Chow Mein
with giant crispy noodles
.
But the Brasserie's tour de force might be its tasty 80-item dim sum menu, including
Pan-Fried Beef
and Onion Buns
,
Pork Dumplings
and more than ten different types of spring rolls. Served all day, every day, dim sum can now move from its weekend brunch slot to a much more delightful late-night feeding schedule.
Given this scene, we're sure to be back for more dim sum (and then some).