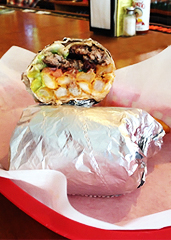 Cheeseburgers: generally delicious.
Fries: also generally delicious. And often served with burgers.
Burritos: also also generally delicious. And rarely—actually, never—served with burgers.
Well, until now...
Behold, the
Cheeseburger and Fries Burrito
, an unholy marriage of, yes, cheeseburgers, fries and burritos, available off-menu now at the Taco Shop at Underdogs.
First, two caveats: one, it requires a trek to the Outer Sunset. And two, since it's not on the menu, you'll have to practice your knowing nod. But we promise: those sacrifices will be well worth it.
Your primary ingredients here: Kobe beef that's ground in-house, monterey jack cheese and a generous amount of french fries. Your secondary ingredients here: pickled jalapeños, some guacamole and pico de gallo (which was robbed last night for the best supporting ingredient Oscar).
The result: pretty much exactly what it sounds like. It's beefy. It's cheesy. It's full of fried-potato-y goodness. And it comes with a side of... fries, naturally.
Your play: come here during March Madness. Check out a game. Order a beer. Then, when hunger strikes, give that knowing nod.
Good thing you've been practicing.