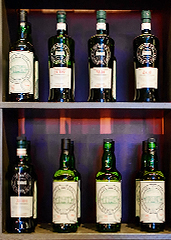 Here's a wild notion: wouldn't it be great if there were a club that dedicated itself to scouring Scotland for amazing whisky, and then bottling it...
And while we're on such flights of fancy, wouldn't it be greater if there were a local bar that got its hands on 75 or so of these bottles, and let you order a dram from them...
Well, hold on to your tartan, because now there is.
They're called
The
Scotch Malt Whisky Society Bottlings
, and Jack Rose is now the only place on the East Coast where you can find them.
You probably don't need a primer on this bar and its 1,500 whiskies. But the Society, well, they're a whisky-obsessed lot that goes around tasting at 120-odd distilleries, picking their favorite batches and bottling them right out of the cask.
Now, only Society members can get these bottles. But Jack Rose is pouring
76 of them by the shot
, working up to 100-plus. Problem solved.
Some of these are from distilleries you know, like Macallan. Others are ultrarare, from "dead" distilleries like Rosebank, which folded in the '90s.
But you won't find their names on the bottles. Just opaque identifiers like "41.51" and "G3.2"—along with descriptors like "spicy BBQ," "bread pudding," "cannabis" and "gunpowder."
The last two: also a Seth Rogen movie plot.