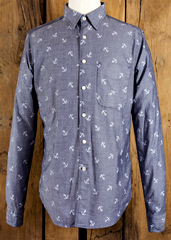 Few highlights from last night:
Argo
won.
Jennifer Lawrence lost (to some stairs).
And you went another night without wearing some devastatingly rakish garmentry by way of the UK.
That last one...
That last one's not okay.
Take a look at
Anthem
, a UK-based haberdashery brought to you by the guy who curated the menswear collection at Liberty London (read: your body should really get to know this stuff), online now.
It all started when one Simon Spiteri opened up his brick-and-mortar spot in London back in 2011. At which point he filled it with all manner of red-white-and-blue crewneck sweaters, Japanese selvage jackets and the occasional button-fly boardshort. Just a few little somethings to run around and not take yourself too seriously in.
And then he put it all online.
So go there and click the button that says "Designers." It's a fantastic button. It's where you'll see names like Rag & Bone, Oliver Spencer and Our Legacy. Keep going, though. There's also a bunch of exclusive gear you won't find anywhere else. Like a wool shawl-collar hunting jacket from Klaxon Howl. And that bright-yellow, waterproof, double-breasted peacoat from Hancock. 
And yes, you'll also come across things like navy-striped T-shirts and twill boardshorts for any spring-related hooliganism you may find yourself involved in over the next couple months.
Great season for hooliganism.