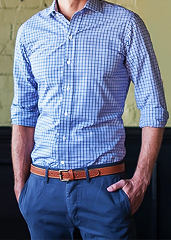 Nashville: a study in contrasts.
Home to Taylor Swift. But also the Black Keys.
The setting for overwrought TV dramas. But also
American Pickers
.
A great place for spicy fried chicken. And also to get ideas for shirts.
About that last one...
Say a limited-time-only hello to the
Ledbury Nashville Short Run Collection
, the Richmond shirtmaker's first one-off collection inspired by another city (in this case, Music City), online now for just two weeks. We're sure you're curious about what this means for you, so here's a bit more hard info.
What they look like:
Yep, these are as American as a honky-tonk bar. Or... the Nashville Predators. You've got red-and-white checks, red-and-blue plaids, purple-and-white patterns. Interesting, and slim fitting, but nothing that would offend a red-stater. Which brings us to...
How these shirts are made:
The fabrics are all Italian, the buttons are all mother-of-pearl, the collars are fused so they won't collapse, and the second button is in the perfect spot, just in case you want to eschew that tie.
When you'll wear them:
As soon as the weather breaks. They're made of summer-weight chambray and cotton-linen blends. And they're versatile enough that you can throw them on with some dark jeans, or tuck them into your best gray suit for your next senatorial confab.
They'll make you look confabulous.