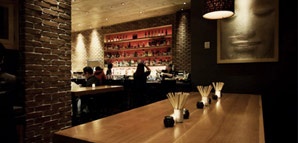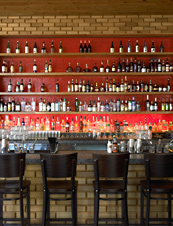 Man cannot survive on sushi alone.
Add sake, and the odds get better…
But throw in a full bar stocked with 30-plus premium gins and about the same number of whiskeys, and things start looking up.
That's why you'll like Tsunami Mission Bay—the new sushi and spirits joint brought to you by the team behind Tsunami in Western Addition and Nihon Whisky Lounge—opening Thursday in SoMa.
Tsunami MB is like the restaurant child of a boozy drinking den and your favorite sushi nook—so instead of traversing the city for each, now all the commuting you and your date will do is from the bar to your table.
Don't expect a traditional sushi bar here (there isn't a fish-filled fridge in sight); instead, take a stool at the custom-made granite bar devoted to all things liquor and knock back a
Negroni
and/or a
Blood and Sand
to start. Then move on to more traditional Japanese delicacies.
You can order the full menu at the bar, or hide away at a table in the dining room, and start with the
Kobe Beef Tataki
and the spicy, habañero-spiked
Dr. Octopus
(note: not a real doctor). And lest you think things couldn't get hotter, try the jalapeño-boosted
Volcano Roll
. Or, leave the decision-making to the chef and opt for the omakase.
After all, you've got the cocktail list to master.