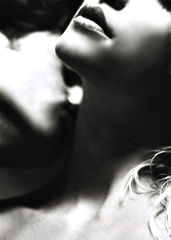 Hey, you did it. Got through Valentine's Day. Monogamy at its finest. Good on you.
... Maybe now's a good time to dive into some weekly swingers parties.
Or maybe just dip a toe in on that one.
Either way, here's
Bowery Bliss
, three whole floors of getting freaky at an undisclosed location on the Bowery. It's taking reservations now, and here are four facts for you to chew on...
Don't worry, you'll find it.
Just make a reservation and the address is yours. Couples are highly encouraged. Single ladies: even better. Single guys: ... well, you pay a little more at the door, and some of the events are off-limits. But once you show up, congratulations, you're a member.
4,000 square feet is a lot of space for this.
One first-floor Renaissance Lounge for chitchat and cocktails. One group-play floor. One couples-only playroom.
It's BYOB.
There's no liquor license as of yet. And let's face it—probably not one forthcoming. So bring a bottle of the good stuff and be generous. Mixers are free, which is a nice touch.
Creativity is encouraged.
Other than some obvious no-nos, there aren't a whole lot of rules here. Toys are welcome. Sevensomes can be a thing, pending logistics. Asking three consenting adults to bow down before you and call you Hoss: weird, but okay.
We're sure you'll do great.