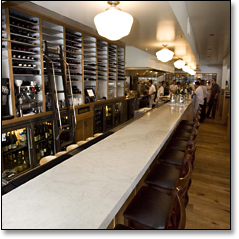 It takes a lot to be lured out of the city.  
But when you do venture out of the 415, you want to make sure there's a damn good reason.  
Something like
Mayfield
, the new rustic bistro from the guys behind Spruce,
Pizza Antica and Village Pub, opening Monday in Palo Alto.
 
Imagine the fine dining-level service of Spruce but with a casual French cafe vibe, and you've got Mayfield—a spot for wood-grilled steak, spit-roasted pork shoulder and flowing Grenache (or suitable replacement from the 100-deep wine list).
 
While dinner always works, drop in on a Sunday for brunch, take a booth in front of the long marble bar and order some hangover-busting Griddled Brioche with Hobbs' Bacon. But we really like the Niman Ranch Chuck Burger, encased in a house-made poppy bun, and washed down perfectly by a Saison Dupont Belgian ale.
 
And if you're up for a little dessert, there's an in-house bakery (helmed by a former Boulevard pastry chef) to keep things fresh: like cheesecakes and crostatas.
 
Or just stick to the Belgian ales...