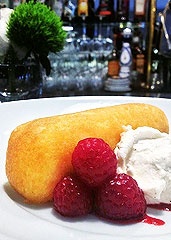 In second grade, your power lunches ended with a handshake and a Twinkie.
These days, that really won't cut it anymore.
Well. Yes it will. As long as it's a Twinkie that's infused with rum...
Introducing the
Twinkie alla DOMA
, an ingenious Beverly Hills take on the dearly departed snack cake, available now at DOMA.
It was kind of sad back when Twinkies went away. Along with charcoal and Richard Simmons, they were supposed to be what survived the apocalypse. Then they left you. But now they're back and, dare we say, better.
So you go to a power lunch at DOMA, that newish spot from the Dan Tana's owners. You meet up with whatever CAA agent you're meeting up with these days. You have your lunch, you pitch your pitch, and then, just when you want her in the palm of your hand, you order the coup de grâce: a housemade "Twinkie" with a few... refinements.
The cream is Chantilly crème. The cake is spongy without seeming, you know, thermonuclear. There are some nice raspberries on the side. Oh, and each dessert has about the equivalent of a shot tossed right in the middle.
Barkeep, another round of snack cakes, please.