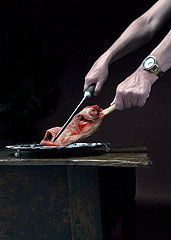 Well, the Super Bowl is over. Now, onto something important: there's a new restaurant in the Mozza empire. It's called
chi SPACCA
, and there are five things you need to know:
1. It's got some familiar neighbors.
At the corner of Melrose and Highland, there's Pizzeria Mozza, Osteria Mozza, Mozza2Go and... this place. Used to be a cooking school. Now: less about educating and more about eating.
2. A reservation could be tough.
Partially because there are only about 30 seats. But like the other Mozzas, they accept walk-ins at the bar (starting at 5:30pm). And that's a good place to be.
3. You'll feel right at home.
There's lots of marble, lots of hanging orange and red pots, lots of wine on display—you like wine. Anyway, there are only two seatings every weeknight (starting at 6pm and 8:15pm), so it's like an intimate dinner party in a kitchen. Followed by another one.
4. The name means "to chop." Yeah, there's a lot of cleaved meat here.
If you don't know Chad Colby, you will soon. He's doing for cured meats what Nancy Silverton did for bread, what Mario Batali did for Crocs, what... well, you'll want
to try his "whole muscle" salumi
is what we're saying. And the 42-ounce pork chop. And...
5. It opens tonight.
So maybe do tacos tomorrow.