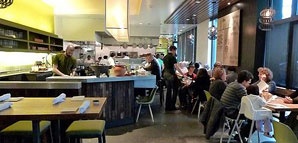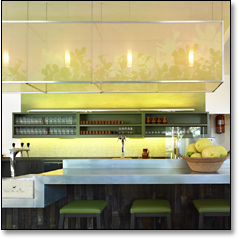 Wild success, as you know, is hard to replicate.
Consider the pressure of the follow-up. The anticipation of that next move...
And now the guys who started Nopa—and redefined an entire neighborhood in the process—are turning their ambitions a few blocks down the road, with
Nopalito
—the new Slow Food meets South of the Border Mexican joint—opening today.
While the Nopa crew could have just made a mini version of their hit resto, Nopalito (named after a slice of a cactus paddle) is the more casual, little Mexican cousin—in other words, it's where you'll go when you've got a crew craving carnitas by the pound and a few cans of Tecate.
Grab one of the handmade tables cut from a fallen
white oak tree—or if it's nice out, in the heated back patio—and order a few made-from-scratch tamales, a bit of crispy pork belly and a maybe some grilled lamb. We also liked the Birria de Chivo—goat stewed in dried chiles, roasted tomato and chocolate—which tastes way better than it sounds, and goes down nicely with a local brew from Magnolia.

Don't expect to find any gut-busting, Mission-style burritos here.

But you never wanted to be limited to one neighborhood anyway.