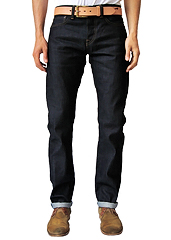 This weather. This strange weather.
We really can't explain it. Too warm, too wet. It's all just a little weird. Unsettling, even.
But what we can do is this: ignore it and talk about this new little workshop out in LA that makes some pretty fantastic things out of denim and leather.
Introducing
Rogue Territory
, an astonishing trove of obsessively hand-tailored haberdashery, online now.
Think about a line of clothing specifically crafted for young Hollywood. The kind of people who demand the best things in life. The kind of people who want selvage denim sourced from mills in Japan. The kind of people who need the finest in silk-screened pocket material and hand-sewn belt loops. The kind of people who yell at personal assistants on cell phones while driving down the 405.
Now try to forget for a second how much you hate those people. Just focus on the fact that they have easy access to some pretty nice threads.
For instance, in addition to the jeans, you'll find a strong selection of long-sleeve, back-to-basics button-downs and belts that are hand-branded with their company's logo. You'll also find very practical items. Pocket scarves. Canvas totes. Safari trousers made from genuine, vintage, East German raindrop-pattern camouflage material.
Those East Germans, always hiding from the rain.