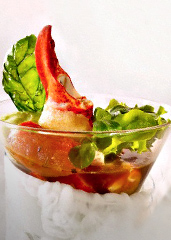 Lobster shooter [läb-stər shü-tər]
noun, singular

1. A dish consisting of rich lobster broth and a chunk of lobster tail, typically consumed in a shot glass.
Here, to clarify, we'll use it in a sentence.
On February 9, you'll be knocking back lobster shooters in a Trinity Groves brewery.
Great, now we're all on the same page.
Mark your calendar for
Crave Chino
, a one-night-only pop-up dinner that's bringing lobster shooters and beer pairings to Four Corners Brewing Co., taking reservations now for February 9.
This is your first look at in-the-works Latin-Asian restaurant, Chino. Its official brick-and-mortar locale is coming to Trinity Groves in a few months, so you could just wait for it to open. But... nah. See, they're doing a one-night preview at their neighbor's place. And that neighbor, well, they make beer for a living...
To take part, just consult your calendar, cancel any existing plans for February 9 and
reserve a spot
. When the time comes, step inside the massive blue brewery, have a couple of those lobster shooter appetizers, a pint of Local Buzz, and make a little conversation over by that silver mash tun. You know, typical dinner-in-a-brewery stuff.
Then, find your seat. On the table: double-fried quail eggs with tamarind reduction, braised pork belly enchiladas and whatever else your chef (Uno Immanivong of ABC's
The Taste
) feels like dishing out.
Here's hoping she's not in the mood for wheatgrass.