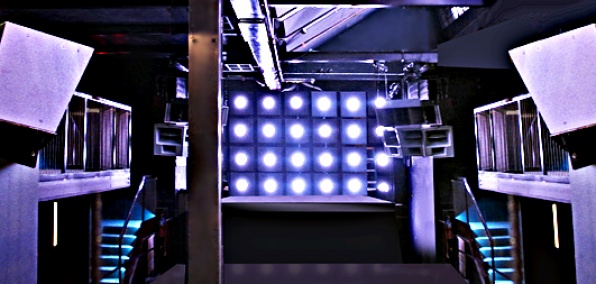 "I Wanna Dance with Somebody."
Great tune.
Sorry if it's lodged in your head for a week now.
But seriously, you should dance with somebody...
Perhaps at
Output
, a permanent warehouse party in the form of a full-fledged Williamsburg club, opening tonight.
Picture yourself next to the
Wythe Hotel
, across from Brooklyn Bowl. You're here: an unassuming temple of creative bodily movement. It's got all the familiar symptoms of a warehouse—exposed I-beams; a grimy, angular skylight; industrial-looking staircases; serious guys from Berlin. Only here, it's all drenched in spectral neon light.
You'll enter through a black double door, past a yellow phone booth. Ascend a short staircase. You'll begin to feel the bass from the DFA duo that's spinning (tomorrow night). Walk toward the pulsing light.
To the left: the bar. (Neon-lit, of course.) Straight ahead: the dance floor. The DJ's at the end of it. (In front of the giant—you guessed it—neon-light wall.)
The staircases on either side of the DJ lead to a second bar and two rows of communal booths. But get bottle service and velvet ropes out of your head. These are merely take-a-breather booths, and you'll get in with a ticket, not your sparkling wit.
By summer, the party will extend to the rooftop and a TBD restaurant.
Ah, the summer rooftop. You win this round, Brooklyn.