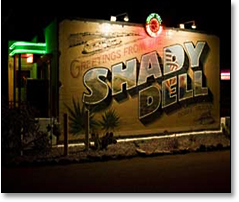 At some point in the last few months—however fleetingly—you may have been tempted to give up the condo, strike Nobu from your speed dial, buy an RV and trek out where nose-diving markets and heart-stopping headlines can't touch you...say, the wide open Arizona desert.
Our recommendation: opt for the weekend.
Just outside the old Western mining town of Bisbee, Arizona, is the recently reopened
Shady Dell
: the tricked-out trailer park of your post-WWII dreams
.
This isn't your standard RV hookup (which isn't to say you
have
a standard RV hookup)—the Shady Dell is refreshingly retro, with nine vintage trailers, a hostess with a classic '50s updo and pink flamingos as far as the eye can see...
You'll stay in your choice of antique trailers, like the rare polished-aluminum '49 Airstream or the '50 Spartanette (it's hard to pass up a female Spartan). Or, for a nautical touch, consider the grounded '47 Chris Craft Yacht (with a leopard-print interior and a Tiki head out front, perfect for entertaining guests). And when you're ready for some working-class grub, pop across the park to Dot's Diner—a trailer-turned-watering hole serving hearty Cajun grits and strawberry milkshakes from the '50s-era machine.
It's your own slice of
My Name Is Earl
heaven.