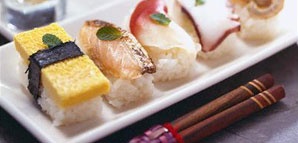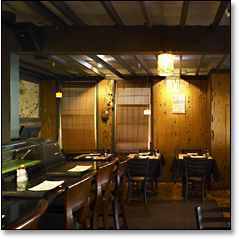 We're used to seeing favorite restaurants close only to be replaced by banks or chain stores.  
So when we heard that after 23 years, Sumi, the intimate French/Asian restaurant that's been one of our go-tos in the Castro, was closing, we were worried.  
Until we got wind of
Sumi Sushi
, a slightly revamped and modernized version of the original, taking over the space and carrying the Sumi torch starting Monday.  
Going back to its 80's roots as a sushi spot, Sumi is still small, still perfect as a date-night hideaway in an unconventional date-spot neighborhood, and still under the watchful eye of chef Sumi (at least until she embraces retirement).
Walking in, you'll feel as if you've entered a pagoda, with gold wood-lined walls and an exposed black-beam ceiling. Once you secure a spot at the new sushi bar, dive into the long list of specialties like bacon-wrapped scallops or the
Spicy Girl Roll
, or go for something a little more adventurous like the
Sumi Maki
(sea urchin spiked with wasabi). And if you're creative enough to dream up your own roll, the chefs will happily oblige.  
The sake list is about twenty bottles deep, almost matching the number of seats.  
Which is the kind of ratio we can get behind.