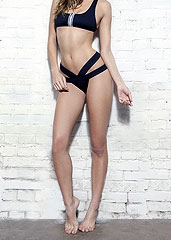 Brr.
It's brutal out there. Cold enough to keep you frozen long after your first quintuple-shot-vanilla-latte whatever it is you drink.
Time to call in the cavalry.
Look around until the coast is clear and then warm up with
Minimale Animale
, a pretty sexy online vault of ladies in bikinis, available now to look at.
Not sure this is necessary, but let's quickly discuss why you might want to visit this website. Say you're slightly under the weather. On the verge of seasonal affective disorder from this crazy cold. Still hunting for a Valentine's Day gift. Who cares. Whatever's troubling you, anything involving gorgeous models, LA sexiness and the occasional artfully photographed posterior tends to make you feel better. Here you go.
Technically, there are actually two bikini collections here. Both of them mix tactful nakedness with a lot of skimpy strings, high-thigh-cut polyester numbers and sheer nothingness (your favorite). Plus, you'll also be able to drink in an array of exotic locales and shooting styles.
Oh, and don't miss the bikinis named for supermodels and sexy actresses. Think: Kate Moss, Cindy Crawford, Stephanie Seymour... even Jane Fonda.
From the
Barbarella
years, not the Ted Turner years.