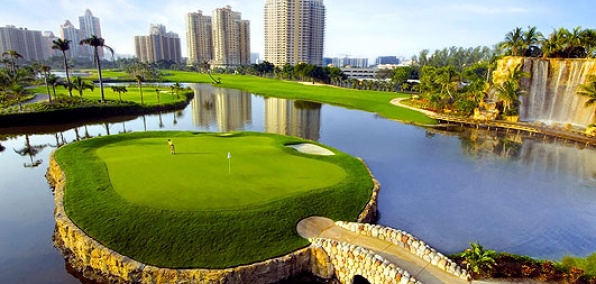 Golf courses.

Typically, you go there to, well, play golf.

Occasionally, you go there to do a little business.

And once in a blue moon... you go there for dinner.

Hey, look, a blue moon.

Trade in your pitching wedge for a salad fork and behold Green Tee Dinner, an intimate multicourse meal for you and a date on the Turnberry Isle links, taking reservations now for February.

So yes, the folks at Turnberry are serving private dinners on their golf course. Specifically, the tee box on 16 (that would be the one overlooking all 18 holes and a 64-foot waterfall). They'll fix you a table, surround it with tiki torches and then pretty much leave you and the other half of your twosome to do your thing. Eating. Drinking. Impromptu skins game.

Just call and make a reservation. Apparently, there's something coming up in February—might be a good excuse for this. Once the date's squared away, you'll work with Turnberry's chef to create a custom three-to-five-course dinner. Sky's the limit, so you may want to work braised short rib and butter-poached lobster into the menu somewhere.

And if your night requires a little something above and beyond crème brûlée, you can ask to have rose petals strewn around the table. Or for a trio of strings to perform a moonlight serenade. Or for a caddie.

Lobsters don't crack themselves.