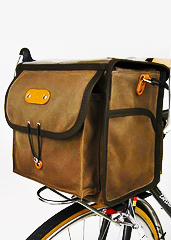 Last week was a big one in the cycling world.
Historic. Scandalous. Oprah-y.
But so is this week. This week is a big one in the cycling world, too.
Because, well... bike bags.
Take a refreshingly drama-free look at
Acorn Bags
, just a bunch of magnificently strappy waxed-canvas bags that you can attach right to your bike, available online now.
These are exactly the kind of natty satchels you'll want mounted to your handlebars during a weekend trip through the Blue Ridge Mountains (might want to wait until it stops being 31 degrees, though).
Nothing too extravagant here—saddlebags small enough to fit between your handlebars but big enough to hold all your bug repellent and Skittles and flasks. "Wobble-free" olive numbers with vegetable-tanned straps made from US steerhide. Compact roll bags with your Boy Scout patch sewn on.
They'll do that. They'll really do that.
See, everything's handmade by a husband-and-wife team out in SoCal. And they're good like that. Just tell them what you're into and they'll do their best to make it happen. A lengthened strap here. A personalized tweak there.
A personalized tweak in the hand is worth two in the bush.