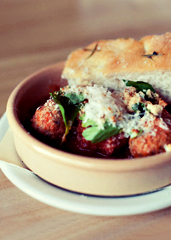 The intrigue. The intimacy. The excitement and fear of knowing that, after one magical night, you may never see them again.
Yep, we're talking about pop-up restaurants. And we have good news: one of them's found a new permanent home...
Say hello to
Hillside Supper Club
, the full-on restaurant version of the Bernal Supper Club pop-up, opening next week in Bernal Heights.
We start with Caffe Cozzolino. Classic red-sauce joint. Well, that was here, but pretty much everything has been overhauled. Gone: the stodgy decor. Now: rustic, reclaimed redwood fencing and a zinc-topped bar reminiscent of a French brasserie.
In other words, date territory. (We're thinking that getting-comfortable-but-not-too-comfortable eighth date.) Take over one of the two-tops in the window and settle in with meatballs, pork cheeks and/or housemade focaccia. (It's baked with a 40-year-old starter, which is huge in focaccia circles.) Or reserve the big communal table in the chef's library on the mezzanine for a family-style feast. (Word to the wise: reservations open the day before.)
Oh, and here's something: look on the menu under "six-pack for the kitchen." If you're thinking it's what it sounds like, well... it is. You can send some beers to the hardworking crew prepping your meal.
Suddenly, giving your compliments to the chef seems so quaint.