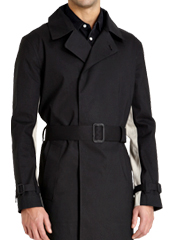 The rain dance.
Quite possibly the most underrated move in the history of human body gyration.
Today, you're bringing it back. With some help from the experts, naturally.
No, not the National Weather Service...
The Scottish.
Let the sartorial clouds part for
Hancock
, a newborn line of tremendously sleek, Scottish-made waterproof jackets, blazers and peacoats, online now and available at Barneys.
These are the kinds of jackets you'd find a Maine lobsterman wearing after being lost at sea, then later rediscovered as a Milanese runway icon. (That old story.) We're talking rubberized peacoats with oversized collars. Bright-pink, elastic-lined three-quarter jackets. Just classic British-y rainproof goodness.
The name comes from Thomas Hancock—one of the guys who helped invent the classic Mackintosh raincoat. (The other guy: you guessed it, Macintosh.) It's all made by hand in an original Victorian-era textile factory. So you know they're made to the exacting standards that a discerning 19th-century rubber baron would have demanded. (Minus the whole child labor thing.)
Over the next few months, this stuff will be your go-to whenever the chance of precipitation on your weather app hovers at a frustrating 40% to 60%. Or just when you want to look brow-raisingly stylish while eating a sandwich in the rain.
Or doing other stuff in the rain.