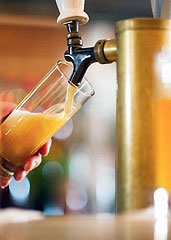 You can't please all of the people all of the time.
Someone said that once.
We assume they were kidding.
Because pleasing people... it's actually pretty easy.
Just add beer.
Raise a glass to
Community Beer Company
, a Design District brewery that's churning out a handful of local beers, available this week at area bars.
But before you dive in, you'll probably want to know a few things. Maybe three things. Like these things.
It's 21,000 square feet of mash tuns, fermentation tanks and kegs.

So you've got plenty of room to walk around. To inspect the operation. To meet the guys tasked with filling those kegs. They would include Jamie Fulton, the award-winning former brewmaster of the Covey. Go ahead, ask to see his medals.
They've got three brews you can sample this week.

Which is great, because you've got two hands, so the math's in your favor. The English-style Public Ale launches tomorrow at Meddlesome Moth. Then you'll head to the Common Table Thursday for some hoppy pale ale before posting up at Craft and Growler Friday for the lager. Hopefully you're writing this down.
The future foretells of brewery tours and beer school.

It's true. Good times are ahead. Brewery tours start Saturday, and down the road, expect to see a taproom, an event space and the opening of their very own beer school.
No word yet on if they'll offer a graduate program.