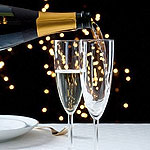 The Wisteria Table, The Raymond
You Require: A private patio with one table... way off grid... cloaked in wisteria and candlelight... for you and only you. Well, and maybe a date.
You'll Receive: That. At the Raymond. Plus four courses, a champagne toast and a proposal. That last one's optional.