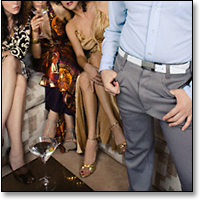 Two girls are better than one—especially on Valentine's Day. Make it three and you're really in business.
So this year, as you ponder the creation of a February 14 to end all February 14s, we thought we'd direct your attention to the city's newest and perhaps most convenient (and maybe even prettiest) personal-assistant service,
Endeavor Concierge
.
Run by two women familiar with the art of taking care of every tiny little detail, Endeavor Concierge is the place to call to put your V-Day in safe hands. Say you were hoping to find a sommelier to come to your home for a wine tasting. Endeavor will connect you with one. Or you need an impossible-to-get table at Boka. Endeavor will get it. Or you want a helicopter to—well, you get the idea. Just go to Endeavor's website, buy a packet of credits (12 run you $35) and fill out the online form describing what you need.
Of course, Endeavor's help isn't limited to errands of romance. For a few credits, they'll gladly take your dog to the park, buy your weekly groceries and liquor, call the cable guy to add Showtime, pick up your dry cleaning, wrap a few gifts, clean your bathroom...pretty much anything except find you a date for the evening.
Then again, they're very helpful.