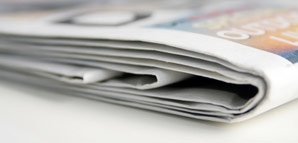 Blogs are your favorite way to skim the news. But lately, even your skimming could use some skimming...
Introducing
The Printed Blog
, a free publication debuting tomorrow at a few select L stops. The brainchild of a Chicago-based software entrepreneur, it marries your fondness for 21st-century media to your appreciation of sturdy 20th-century technology, namely the inkjet printer.
How it works: The Printed Blog editorial staff compiles the best posts from a current roster of 22 different online sources with whom they've partnered. So for your political fix, there's
dailykos.com
, the chronicle of all things lefty. For your less-political interests, there's
bastardlife.com
, a raunchy (yet visually impressive) sex-and-fashion mashup. And for your Chicago fix, there are about a dozen local blogs covering a wide-ranging field of topics, from
fashion
to "
human experience
."
The posts are gathered and printed on 11x17 paper to be handed out,
RedEye
-style, at three L stops Tuesday morning. The plan is to eventually expand to an advertiser-supported, five-days-a-week, twice-daily enterprise all over town.
That's where it gets interesting: You get to help determine the blogs you'll read by submitting suggestions and voting for your favorites on the Printed Blog website. Which means Wrigleyville riders could eventually have
their own interests
reflected, while Wicker Park hipsters
can have theirs
.
Just don't hold your breath for many links...