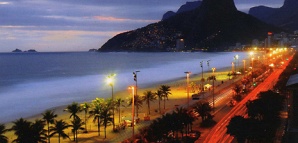 When it comes to parties, there's a golden ratio: effort expended to ultimate payoff. A rumored debaucherous brunch might lure you a few blocks away, and a promising underground lounge, farther still. But only the planet's longest, wildest, caipirinha-est stretch of uninterrupted revelry would have you hopping on a 747 south.
Pack your bags, it's time for
Carnaval
.
There's just one month left until this Brazilian megaparty kicks off—and there's nowhere better to celebrate than Rio, whose four-day orgy of unabashed hedonism makes Spring Break Cancun look like your grandmother's last bridge match. Starting with the epic samba parade on Saturday the 21st, the city devolves into happy chaos: pounding bossa nova in the streets, world-class samba in the downtown Sambodromo, outlandish costumes, never-closing dance floors and more bikinis than you ever dreamed you'd see in February.
The party really heats up at the lavish nightly
bailes
—like the black-tie, celeb-studded ball at the legendary
Copacabana Palace
. For a decidedly more unbuttoned scene, head south for the velvet-rope Baronetti club in Ipanema. And while you pride yourself on your (nightlife) stamina, you'll want a nearby crash pad: Consider the recently opened
Fasano
, right on Ipanema beach, a Philippe Starck-designed hotel with a rooftop infinity pool, a Michelin-starred, Florence-imported chef in the kitchen and a constant, well-dressed crowd in the Baretto/Londra lounge downstairs.
You may never come back up.