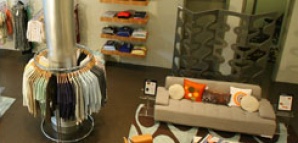 Everything is better on a Winnebago.
That was the philosophy of Claudine and Brian Gumbel, creators of
Caravan
, a clothes-filled Winnebago making pitstops on the streets of New York. This month, Caravan opens its first store in Noho, trading wheels for bricks.
Although admittedly not as fun as shopping out of a van (what could be), you'll appreciate the store's wide open lounge feel, complete with sleek couches, wi-fi laptops and friendly sales staff with cans of Tab to quench your thirst. Guest DJs spin on weekends, and summer happy hours on Thursdays will pour out free cocktails (apparently drunken fashionista girls make for the best after-work company).
As for the clothes, it's hard to make a wrong move here. They've pulled together an eclectic collection of unique, harder-to-find international lines like Jack & Jones button-downs with t-shirt linings from Denmark and John Bull Kojima graphic tees from Japan. Classics from J Lindeberg and Penguin round it all out. Although the men's merchandise is sparse now, it will all trickle in from overseas in the next two weeks.
And if you're feeling particularly lazy, the clothes can come to you for try-on, via (yes) a Winnebago appointment (tabs, cocktails and drunken fashionista girls also available upon request).
Caravan has also created limited edition Gold VIP Cards for friends and random "stylish" strangers, with perks like 10% off at Caravan, front-of-the-line access at
Manor
in NY and Boutique in the Hamptons and special benefits at Marquee.
Forget
Al's Limo
, it's time to take the van.