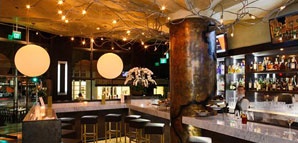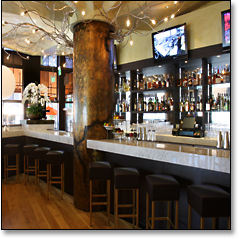 Dining in Beverly Hills is tricky. One false move and you're surrounded by ladies who lunch—drowning in a sea of chopped salads.
But you've got a soft spot for anywhere backed by a Drago brother or two—
Via Alloro
opens today.
The bright restaurant sits on a corner heavy with that special 90210-specific mix of wandering agents, tourists seeking Rodeo and elegant women prone to elective surgery. You'll see it all from one of the many sidewalk tables, or in the glass-encased dining room within—but if you're further back in the lounge, your eye will probably be on the game. (We count seven flat screens.)
Wherever you land (we like the patio out back), the California take on Italian cuisine means you won't be sweating through a butter-soaked bowl of fettuccini in the sun—more like
Swordfish Carpaccio
, or a whole sea bass baked in sea salt. But don't worry, they've got pizzas,
Veal Milanese
and, yes, fettuccini too.
And if you've already had your
Aperol Lychee Collins
but don't know where to start with the wine, buy a prepaid card to swipe through the Enomatic dispenser—half the sixteen bottles are high-end Italian, the others international, but all are available to sample in one-ounce, three-ounce or six-ounce pours.
Which means sixteen samples is not a problem.