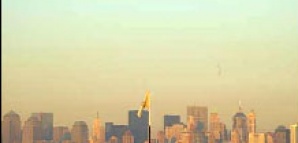 Apparently a landfill of lead, arsenic and PCBs is about to make for the best par four in the country.
That's right, the Garden State will soon be home to one of the world's most expensive, ultra-luxe golf courses—
the Liberty National Golf Course
.
Two years of post-landfill efforts later, this 18-hole championship course is stunning, emerald green and tournament-ready (without a hazmat crew in sight). Designed by U.S. Open Champion Tom Kite, the course isn't for amateurs—lit has a 76.0 tournament tee rating (lucky for them that's our cut-off). We're particularly concerned with the 14th hole, which is a 149-yard par three that's downwind with 80% roughage. The sweeping views of the New York Bay, Manhattan skyline and Statue of Liberty should take the
edge off
.
No expense was spared, from the subterranean technology that keeps the greens heated in the winter to the hand-set $1 million Belgian stone cart paths. A private yacht jets members from Manhattan in under 15 minutes, and a chopper brings in VIPs via a helipad landing. The 50,000 square foot clubhouse (it's still two years away) will feature a restaurant from
Craftsteak's
Tom Colicchio serving classics like Beef Wellington done up with a twist.
Official tee-off isn't until July 4th, but they've just started accepting online applications. Be ready to list your handicap, complete an in-person interview and shell out a cool half million.
With all this, you might actually consider a trip to Jersey.