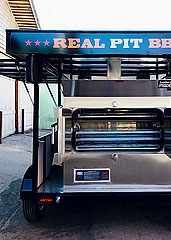 Today we speak of a very special place.
A place that's showing football. A place with friends, music, sunlight, beer and 500 pounds of barbecue.
And that place is... wherever the hell you want.
Prepare for the formidable majesty of
Gus's BBQ Smoker Trailer
, a roving fusion of technology and smoked meat that's basically—and we don't think we're overstating things here—the most important invention in the history of cookouts, available now for rent.
Maybe it's Super Bowl Sunday. Maybe you consider tailgating a competitive sport. Maybe you're looking at a weekend of 75-degree temperatures and you can't think of a single reason why you wouldn't want to get this thing over to wherever you are. Maybe you just really like Gus's BBQ, but Pasadena feels so far away...
In any case, what you've got here is a rentable chrome trailer with a little "Southern Pride" sticker and a great big wood-burning smoker that can handle a quarter ton of meat. Yes, that's a lot.
It's also got a keg tapped. And a stereo system for your iPod. And a satellite-dish-equipped 50-inch plasma screen. You're probably thinking what we're thinking:
Girls
. Season two. Viewing party.