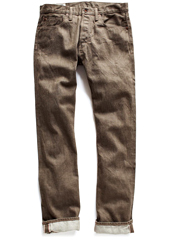 Meet Todd.
He's the guy who... actually, wait. What are we talking about. You know Todd.
Todd Snyder. You're wearing one of his cardigans now. Or maybe not. Maybe you're wearing a Hypercolor T-shirt and a lobster bib. Doesn't really matter.
The point is this: Todd's got an online store now. And that's kind of a big deal.
Let's discuss...
Prepare to reach a moderate-to-severe level of clothing-related bliss as you welcome the
Todd Snyder Online Shop
, the NYC designer's first permanent Internet residence and your shot at stockpiling obscene quantities of whiskey-colored selvage denim and lamb-leather motorcycle jackets, happening now.
This is big news if you've ever woken up in the morning and thought, "Today, I'm going to wear clothes." It's just some really handsome everyday gear. The kind of stuff you'll throw on for some type of happy hour situation. Or some type of sitting-around-looking-all-better-than-everyone-else situation.
Shawl-collar cardigans are in there. Black ones and ivory ones and orange ones. Wool-lined trench coats, too. You'd probably look pretty mysterious and interesting in one of those. But keep going. Check out all those plaid button-downs and all that gunmetal denim.
Gunmetal is so you.